Fishing Marco Island with Captain Michael Van Jones
Your Charter Boat Fishing Captain For Nearshore Ocean Sport Fishing Excursions For Marco Island, Goodland and Naples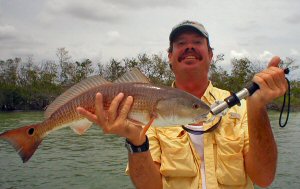 Fishing Marco Island with Captain Michael Van Jones is the experience of a lifetime! Fins-N-Grins nearshore ocean sport fishing excursions are headquartered from Marco Island, Florida, just minutes south of Naples, bordering the Florida Everglades. Anglers and vacationers travel the world over to find the quality of nearshore fishing native to the coastlines and bays of Marco Island, Goodland and Naples.
Our experienced charter fishing Marco Island boat captain, Michael Van Jones, and his crew will take care of every fishing necessity but the fun comes when he regales you with stories, tales and the history of Marco Island, Naples and southwest Florida. Michael's expertise and enthusiasm as a premiere charter fishing boat captain perfectly caters to people of all ages and interests. There are well over one dozen types of fish that he catches on any given day whether sport fishing in backwater or nearshore sea waters.
As a proud and seasoned professional charter fishing boat captain, Michael Van Jones lives to make your Marco Island deep sea ocean sport fishing excursions a time to remember for the rest of your life. Captain Van Jones grew up on Long Island, New York, fishing the waters of the Great South Bay for striped bass, bluefish, weakfish, flounder and fluke. "Deep sea ocean sport fishing with my grandfather, as a young boy, left me some of my fondest memories." Captain Van Jones brings these types of fishing memories to fishing Marco Island with you and his deep sea ocean sport fishing excursions everyday. Fishing Marco Island became a 12 month-of-the-year adventure when Michael moved to Florida in 1985 and realized a dream come true. "I thought to myself it can't get any better than this.... going out on my boat every day, doing what I do best and enjoying every moment. Imagine being able to go backwater fishing and nearshore fishing on Marco Island, Goodland or Naples for a living!"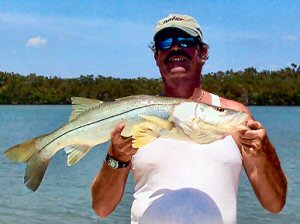 Captain Van Jones realized that he wanted to share his enjoyment of and enthusiasm for fishing Marco Island with others. His goal was to provide his guests - beginners or experienced anglers - with the best and safest boats and the best equipment so that, when combined with his knowledge of fishing, all would experience the best fishing experience trips of their lives. The goal: recreate for others the joy and excitement he remembered from his adolescence fishing on Long Island.
Together, Captain Michael Van Jones and his wife Kay provide top quality nearshore ocean sport fishing on Marco Island for all special occasions that you, your family and your friends want to celebrate. At our house we have substituted the words 'I Love You" with "Get The Net". End of story." The Van Jones' are a fishing family. Experience their passion and book a Marco Island fishing trip today!
Bring your family and friends together for a Marco Island charter fishing excursion of a lifetime. Captain Van Jones offers very affordable rates and brings to you what his family has enjoyed for years.
Captain Michael Van Jones' promise to you: "I will pursue the Marco Island waters in search of fish as if I were fishing with my own family or friends."
Please give us a call at 239-784-2442 if you have any questions or if you would like to book a charter fishing excursion, a Marco Island or Naples coastal sight-seeing trip or a romantic sunset cruise.