Marco Island Fishing
Ocean Sport Fishing Charters
Marco Island, with Goodland at its tip and Naples to the north, is the home of exciting and enjoyable ocean sport fishing charters whether your interest lay in backwater or nearshore ocean sport fishing. Marco Island is the largest of South Florida's Ten Thousand Islands, boasts tropical white sand beaches, crystal clear ocean waters and a fun relaxed way of life. The never ending sunshine lets visitors enjoy hours of fun and safe Marco Island fishing the way it was meant to be.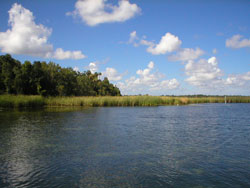 Marco Island and Goodland are known by many as the most beautiful places in the world for charter fishing excursions, fishing trips, backwater or nearshore sea sport fishing charters and sight-seeing adventures. All of our Marco Island fishing takes place in and around Marco Island and Goodland, Florida. There is a wide variety of fish available to experienced anglers and beginners alike such as Drumfish, Spotted Trout, Tarpon, Jack Crevalle, and Pompano.
Fins-N-Grins' Charter Fishing Marco Island offers unforgettable and unparalleled year-round ocean sport fishing charter excursions, great food, sightseeing, shelling and plenty of recreational activities. Experience the pleasures of Marco Island and Goodland and the unique scenery that is Southern Florida.
From family Marco Island fishing vacations to romantic sunset cruises for two, Marco Island, Florida is an unforgettable paradise where memories are forever made. Ocean sport fishing charter gift certificates are also available for friends or family members. Ocean sport fishing charters are available for 4 hour or 6 hour intervals and the Marco Island fishing rates are very affordable. Want to bypass charter fishing and focus on world-renowned scenery? Reserve a 2 hour sightseeing tour or shelling trip because picture-taking opportunities abound on Marco Island.
Please give us a call at 239-784-2442 if you have any charter fishing questions or if you would like to book a charter fishing excursion, a Marco Island or Naples coastal sight-seeing trip or a romantic sunset cruise.